Set Your Pulse Racing with These Amazing Specs on the Hero Xpulse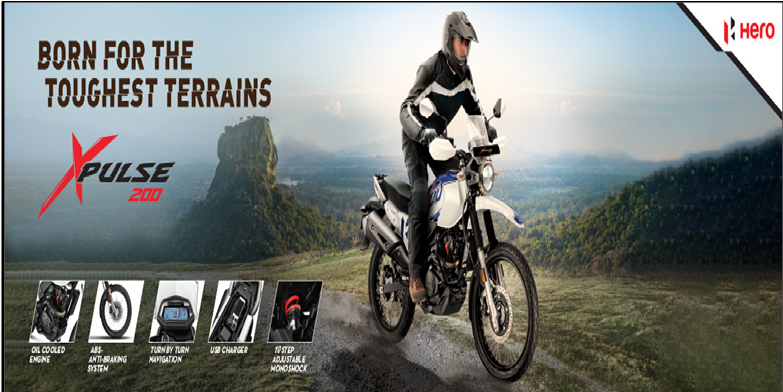 There are motorcycles in the world that get you from point A to point B, and then there are those that ignite your passion, send your heart racing, and bring out the explorer in you. The Hero Xpulse 200 unquestionably belongs to the latter group, and the Hero Xpulse price rightly justifies what the bike offers.
Now, let's examine in detail the incredible features that make it a genuine all-arounder among bikes.
Power and Performance as the Pillars
At the core of any motorcycle lies its beating heart – the engine. The Hero Xpulse 200 has a powerful 199.6 cc air-cooled, 4-stroke, 2-valve single-cylinder OHC engine. The highest power output of this powerhouse is a fantastic 18.1 bhp at 8000 rpm, and the maximum torque is 17.1 Nm at 6500 rpm. These figures reflect the apt Xpulse Hero bike price and depict the pure force that drives you ahead on the open road, ensuring that every throttle twist makes you feel exhilarated.
By successfully harnessing the power and establishing the ideal balance between performance and efficiency, the engine's 10:01 compression ratio ensures that ample power is generated.
The Xpulse 200's engine is your dependable companion, whether driving along the interstate, negotiating city streets, or tackling difficult terrain.
Designed for the Great Outdoors
Those who crave unexplored lands and the excitement of the unknown are drawn to adventure.
The adventurer in you will love the Xpulse 200. Because of its long-travel front suspension, road imperfections will only cause minor ripples in your voyage. Enjoy the excitement as you effortlessly traverse challenging terrain with outstanding stability owing to a front telescopic hydraulic and rear adjustable monoshock suspension system built to handle any situation.
The rear 10-step adjustable mono-shock increases the bike's adaptability. Adjust the suspension to your liking, considering the various driving situations and your own tastes.
The Xpulse 200's suspension system guarantees that you stay connected to the road, preserving control and comfort every step of the way, whether you're slicing through mountain trails or riding along a coastal highway.
Technological Wonders
Modern riders look for more in their motorcycles than just superior engineering. The riding experience has become increasingly dependent on connectivity and ease. The Hero Xpulse 200 shines in this area once more.
The Xpulse Hero bike price includes an integrated turn-by-turn navigation console that transforms into your digital compass, allowing you to navigate new territory confidently. The navigation console ensures you're always on the right course, so you won't need to strain your eyes to read maps or stress about missing turns.
But what good is connectivity if you can't recharge? This need is met by the Xpulse 200's integrated USB charger. Without worrying about a dying battery, you can capture breathtaking views, share your experience in real-time, and remain in touch with loved ones.
The bike's well-considered design meets the needs of today's riders to stay connected, making your journey a genuinely immersive experience.
Precision in Every Detail
The Hero Xpulse 200 is a harmonious fusion of engineering, design, and user-focused features; it is not simply about power and technology.
You can efficiently utilise the engine's power thanks to the 5-speed constant mesh gearbox, which guarantees seamless gear changes. The multi-plate wet-type clutch improves the gearbox system's overall precision, resulting in smooth and quick gear changes.
The Xpulse 200 is designed for long trips, with a gasoline tank capacity of 13 litres and an additional 2 litres in reserve.
Being constrained by frequent fuel stops is the last thing an adventurer wants. This bike allows you to travel farther, discover more, and savour the open road.
Despite its powerful features and reasonable Xpulse Hero bike price, the bike retains a modest kerb weight of 153 kg. Because of this, the bike will be agile and manoeuvrable, whether you're negotiating congested city streets or tackling challenging off-road routes.
The Xpulse 200's precise design, proportions, and weight have been created to give you an agile and powerful motorcycle.
Unleash Your Inner Adventurer with the Hero Xpulse 200
The Hero Xpulse 200 stands out as a beacon of adventure, performance, and connectivity in a world of motorcycles that only help you travel from one place to another.
It is a genuine all-arounder that can ignite your passion for riding and exploration because of its powerful engine, adjustable suspension, technological prowess, and meticulous design.
The affordable Hero Xpulse price promises an experience unlike any other, whether you're an adventurer, commuter, or both. The Hero Xpulse 200 is more than just a motorcycle for riders looking for an adventure. It's a key to incredible trips and transforms each ride into a remarkable tale waiting to be shared.